Dart Case - Winmau- Ted Hankey - with magnetic closure - Coffin Case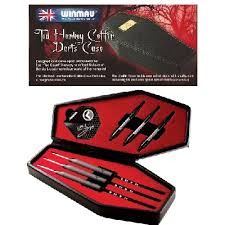 Dart Case - Winmau- Ted Hankey - with magnetic closure - Coffin Case
Dart Case -Ted Hankey Coffin Case
Designed eclusively by Ted Hankey to relect his love of the vampire!
This stitched, leatherette Coffing Case is manufactured to the highest standards and is complete with a magnetic closure.
The red insert complements the classic vampire feel for a case that Dracula himself would be proud of!
The Coffin Case holds one set of darts with shafts, one set of flights, and one spare set of shafts.
NB. Darts and Accessories not included.